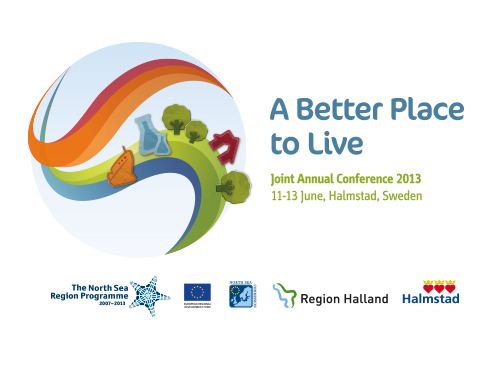 About the conference
The Joint Annual Conference 2013 of the North Sea Region Programme and the North Sea Commission was held 11-13 June in Halmstad, Sweden.
Video with highlights from the conference.
300 participants took part in the different sessions, sharing experiences in view of the future Programme. The conference featured interactive workshop sessions and plenary sessions with a strong focus on discussion and debate.
The plenary sessions was held in the form of facilitated discussions between invited guests on stage and the plenary audience, with room to post questions to the stage, live and online.
You can read more about the event in the conference programme.
Theme
The theme of the conference is 'A Better Place to Live', incorporating key aspects of the North Sea Region Programme, North Sea Commission and Region Halland.
Workshops
Workshops took place on both conference days: 15:30-17:20 on day 1 and 14:00-15:50 on day 2.
The workshops were arranged in parallel with a number of 20-minute sessions on different topics related to the theme of the conference. Read more about the sessions in the workshop list here: Joint Annual Conference Workshop Sessions Menu.
You can read more about the concept for the workshop sessions in the workshop background paper.
Study tours
Five study tours took place on Wednesday 12 June.
Entrepreneurship – Today and for the Future
Management and Planning for Sustainable Development – The Kattegat Sea and its Coast
Investing in our Health – Public Health and Health Technology
Improving Connectivity – Public Transport and the 'Coinco North' Project
Smart Regional Specialisation – The Kattegat Route, Spa Resorts and Food Businesses
You can read more about the different study tours here.