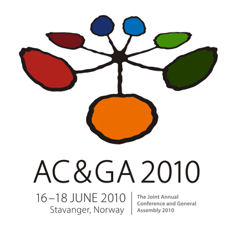 The Joint Annual Conference and General Assembly 2010 of the North Sea Region Programme 2007-2013 and the North Sea Commission took place 16-18 June 2010 in Stavanger, Norway.
The conference marks the main annual event of the North Sea Region Programme 2007-2013.
Blog and video
A blog for the conference has been activated. Through the site participants and stakeholders can comment and feedback on the theme and the event itself. A video from the event is also available online. Access the conference video and blog here.
Download the conference programme here.
For more details about the theme and concept of this year`s conference, see the Background Paper.
Background information on the EU 2020 strategy and the response of the North Sea Commission:
An introduction to the clustering approach of the Programme is available for download, here.